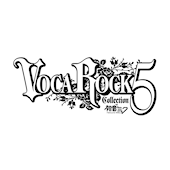 Vocarock collection 5 feat. Hatsune Miku
Release Date: 12/25/13
Price: 1905 yen
The fifth main release in FARM's Vocarock series, which features Vocaloid rock songs. There'll be 20 tracks in all from famous Vocaloid producers like Neru, Scop, and others. Bonus items include a 3D cover and guitar pick. You can visit the official website for more info.
01. Cinderella Delivery / Jin feat. IA
02. Kyokumei Mitei / Neru
03. Kyokumei Mitei / Ishiburo feat. IA
04. Yume Hanabi / Mafumafu feat. Ia
05. Nina / Pinocchio P feat. Hatsune Miku
06. Kyokumei Mitei / Tokotoko (Nishizawa-san P) feat. Gumi
07. Yami Shibai / Teniwoha × AVTechNO! feat. Hatsune Miku
08. Kyokumei Mitei / Yuyoyuppe × Yuyoyuppo feat. Megurine Luka
09. Kyokumei Mitei / Nashimotowe feat. Hatsune Miku
10. Mushikui Psychedelism / Scop feat. Kagamine Rin·Len
11. Urotaeru Shinzou to Gunjou Shigai ni Nari Chirakasu Siren ga Hidoku Han Katta / Eight feat. Hatsune Miku
Pre-order at CDJapan.