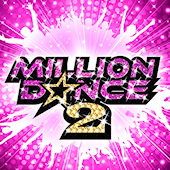 Million Dance 2
Release Date: 12/25/13
Price: 1886 yen
Wow, this is quite a surprise. The sequel to Warner's Million Dance will come out on Christmas day, less than two months after the first CD. The series is interesting because it features dance music from around the world. In fact, they're currently recruiting Japanese producers on Facebook. The first release included a track from Prog5, which is one of the aliases of Shohei Matsumoto (aka Heavens Wire), so I can't wait to see who might show up on the sequel.
I'm just disappointed they didn't go with Billion Dance. 🙁
01. You're Gonna Love This / 3OH!3
02. 1 Nite (One Night) / Cobra Starship
03. Good Feeling / Flo Rida
04. Euphoria / Loreen
05. I Love It (Sick Individuals Remix) / Icona Pop feat. Charli XCX
06. Play Hard (Official Video) / David Guetta ft. Ne-Yo, Akon
07. Together We Are / Arty ft. Chris James
08. KillP RZI (original mix) / The Moogs
09. Ah Yeah! / Will Sparks
10. Wakanda / Dimitri Vegas & Like Mike
11. Rasputin / Hard Rock Sofa
12. Let It Rain / Nari & Milani and Cristian Marchi with Max C
13. Vamos a la Playa (Scotty Extended Remix) / Loona
14. Legion / Northend
15. Melbourne Bounce (Deorro Remix) / Orkestrated, Fries & Shine ft. Big Nab
16. Slow Down (Original Mix) / Showtek
17. After All (Original Mix) / Henrix, Darmon & Eran Hersh
Pre-order at CDJapan.