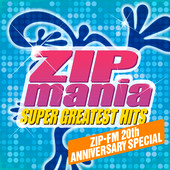 ZIPmania Super Greatest Hits – ZIP-FM 20th Anniversary Special
Release Date: 11/20/13
Price: 900 yen
Update (11/26/13): As pointed out by Mike D in the comments, the full album is back up on iTunes Japan with the correct track list.
Update (11/23/13): As discussed in the comments, the album has been taken off iTunes, possibly to correct a labeling mistake. It's currently available on Amazon MP3 with track 2 correctly labeled.
Yay, another digital Dancemania collection! This one features 13 full versions from the recently release ZIPmania All Best Mix, including the awesome new ZIP remix of Che'Nelle's "Aishiteru." The odd thing is that this has LMFAO's "Party Rock Anthem" instead of "Sexy and I Know It."
01. [5:30] Good Time (Wideboys Remix) / Owl City & Carly Rae Jepsen
02. [3:19] Sexy and I Know It (Album Version) / LMFAO
03. [6:29] Poker Face (LLG vs GLG Club Mix) / Lady Gaga
04. [4:42] Good Times (Extended Club Mix) / Roll Deep feat. Jodie Connor
05. [5:08] Banzai (Apogeous Extended) / Misa
06. [5:06] Willy Use a Billy…Boy (Willy's Latest Mix) / E-Rotic
07. [2:45] Do It Like That / Ricki-Lee
08. [3:17] Chasing the Sun (2012 Remaster) / The Wanted
09. [5:27] Acapella (David Guetta Extended Mix) / Kelis
10. [5:35] Levels / Avicii
11. [6:01] Spectrum (Extended Mix) / Zedd feat. Matthew Koma
12. [6:43] Don't You Worry Child / Swedish House Mafia feat. John Martin
13. [3:56] Aishiteru (ZIP Remix) / Che'Nelle
Pre-order at CDJapan.