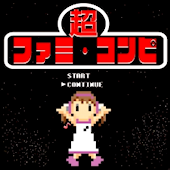 Chou Fami Compi
Release Date: 1/28/15
Price: 2000 yen
Sequel to 2011's Fami Compi and 2012's Zoku Fami Compi. Yup, it'll be three years since the last release. The series features dance arrangements of popular Famicom tracks. So far the early track list has some songs from previous releases. It's unclear of those will be new arrangements, or if this is some sort of best-of release with a few new tracks.
Also, for some reason there's a Makuake (Japanese equivalent of Kickstarter) campaign going on for the album. Presumably the album will come out no matter what, but if you contribute then you'll get extras likes pins, stickers, or release party tickets.
01. "Mother" ~ Pollyanna
02. "Rockman 2" ~ Dr. Wily Stage
03. "Akumajou Densetsu" ~ Beginning
04. "Gimmick!"
05. "Gradius"
06. "Twinbee"
07. "Getsu Fuuma Den"
08. "Dracula II ~Noroi no Fuuien~" ~ Bloody Tears
09. "Bomberking"
10. "Rockman 2" ~ Airman Stage
11. "Rockman 3" ~ Title
12. "Tatakai no Banka"
13. "Red Arremer II"
14. "Atlantis no Nazo"
15. "Ripple Island"
16. "Salamander"
17. "Makaimura"
Pre-order at CDJapan.