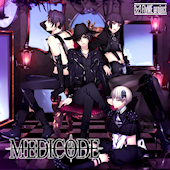 "Medicode"
Artist: FlyMe project
Release Date: 4/1/15
Price: 2600 yen
New project from Exit Tunes, featuring a "band" composed of voice actors. Each CD will feature original songs as well as drama tracks. This one has a dark sound. Visit the official website for more info.
Music
01. Carma
02. Hollow
03. Carma -instrumental-
04. Hollow -instrumental-
Drama
05. Kyou no Koto, Itsumo Okoru Koto
06. Omoidesu Koto, Omoi Tsuzukeru Koto
07. Medicode no Nichijou ?
08. Medicode no Nichijou ?
Pre-order at CDJapan.