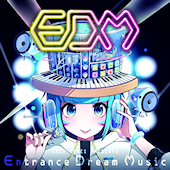 Exit Tunes presents Entrance Dream Music
Release Date: 4/15/15
Price: 2100 yen
The Speed Anime Trance Best series has taken a hiatus, but it looks like Exit Tunes haven't abandoned the dance music scene completely. The EDM boom is in full force, so this April they'll be releasing a Vocaloid EDM album featuring top producers, including Ryu*! Bonus items include a sticker (1 of 4 designs) nd a poster. Retailer-exclusive bonuses are also available, ranging from can badges to remix CDs. Visit the official website for samples and more info.
01. Freely Tomorrow / Mitchie M
02. Killer Lady / Hachiouji P
03. tractrix / Soh Yoshioka
04. Lovecino / Junky
05. Tenshou Shoutenshou / Kikuo
06. Eden / Atols
07. Elect / niki
08. Rabbit / dezzy (Ichiokuen P)
09. funeral / k'
10. parade on grass / tilt-six
11. Camellia Kakioroshi Kyoku
12. Utata P Kakioroshi Kyoku
13. Crusher-P Kakioroshi Kyoku
14. Ryu* Kakioroshi Kyoku
15. Chouchou P Kakioroshi Kyoku
Pre-order at CDJapan.