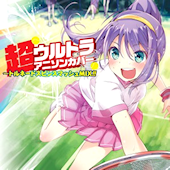 Chou Ultra Anison Cover ~ Tornado Spin Smash Mix!! mixed by DJ Mixa
Release Date: 4/23/14
Price: 1800 yen
I've been meaning to cover this series for a while, if only for the increasingly ridiculous sports terms in the titles. The Chou Ultra Anison Cover Mix!! series is brought to you courtesy of SCM Music, the parent label of Full Moon/Akiba Koubou. The series began in April of 2014 and, as the title suggests, features covers of anime songs. Each CD is non-stop mix by DJ Mixa, with a "simple freedom" mix style, whatever that means. Samples are available online on various retailer sites like HMV, but it doesn't look like any of the albums are available digitally.
01. [1:21] Ready!! ("The Idolm@ster" yori)
02. [2:38] Hare Hare Yukai ("Hare Hare Yukai" yori)
03. [2:57] Sorairo Days ("Tengen Toppa Gurren Lagann" yori)
04. [2:50] Yokitoki ("Yahari Ore no Seishun Love Come wa Machigatteiru." yori)
05. [2:52] Taiyou Iwaku Moeyo Chaos ("Haiyore! Nyaruko-san" yori)
06. [2:46] Sparkling Daydream ("Chuunibyou demo Koi ga Shitai!" yori)
07. [1:17] No buts! ("Toaru Majutsu no Kinsho Mokuroku" yori)
08. [1:09] Reclimb ("Yowamushi Pedal" yori)
09. [3:33] Shinryaku no Susume ("Shinryaku! Ika Musume" yori)
10. [3:14] Watashi ga Motenai no wa dou Kangaetemo Omaera ga Warui ("Watashi ga Motenai no wa dou Kangaetemo Omaera ga Warui!" yori)
11. [1:37] Higurashi no Naki Koro ni ("Higurashi no Naki Koro ni" yori)
12. [1:45] Saisei -rebuild- ("Danganronpa Kibou no Gakuen to Zetsubou no Koukousei The Animation" yori)
13. [3:44] Zankoku na Tenshi no These ("Shin Seiki Evangelion" yori)
14. [1:25] Bloody Stream ("Jojo no Kimyou na Bouken" yori)
15. [1:15] Zannenkei Rinjinbu Hoshi Futatsuhan ("Boku wa Tomodachi ga Sukunai" yori)
16. [2:18] Magi Love 1000% ("Uta no*Princess-sama Magi Love 1000%" yori)
17. [1:33] silky heart ("Toradora!" yori)
18. [1:44] Seishoujo Ryouiki ("Rozen Maiden Träumend" yori)
19. [2:46] Moonlight Densetsu ("Bishoujo Senshi Sailor Moon" yori)
20. [1:29] Non Non Biyori ("Non Non Biyori" yori)
21. [1:34] Dramatic Market Ride ("Tamako Market" yori)
22. [2:33] Motteke! Sailor Fuku ("Lucky*Star" yori)
23. [1:15] Choose me? Darling ("Kono Naka ni Hitori, Imouto ga Iru!" yori)
24. [1:33] God knows… ("Suzumiya Haruhi no Yuutsu" yori)
25. [3:02] only my railgun ("To Aru Kagaku no Railgun" yori)
26. [2:56] Sousei no Aquarion ("Sousei no Aquarion" yori)
27. [2:13] Shangri-La ("Soukyuu no Fafner" yori)
28. [2:25] Bright Stream ("Mahou Shoujo Lyrical Nanoha The Movie 2nd A's" yori)
29. [1:18] Platinum 17 ("Dakara Boku wa, H ga Dekinai." yori)
30. [1:43] W: Wonder tale ("Ore no Kanojo to Osananajimi ga Shuraba Sugiru" yori)
Pre-order at CDJapan.